Gravity and I. Take A Piss
A downloadable trans revenge fantasy
Gravity and I is a trans revenge fantasy about a not-too-distant future United Kingdom of England and Wales, where the Equality Act 2023 has made it impossible to take a piss in peace. Join our heroes Gravity Stain and I Robot in their gratuitously violent retribution for the shitshow our lives in this country have become.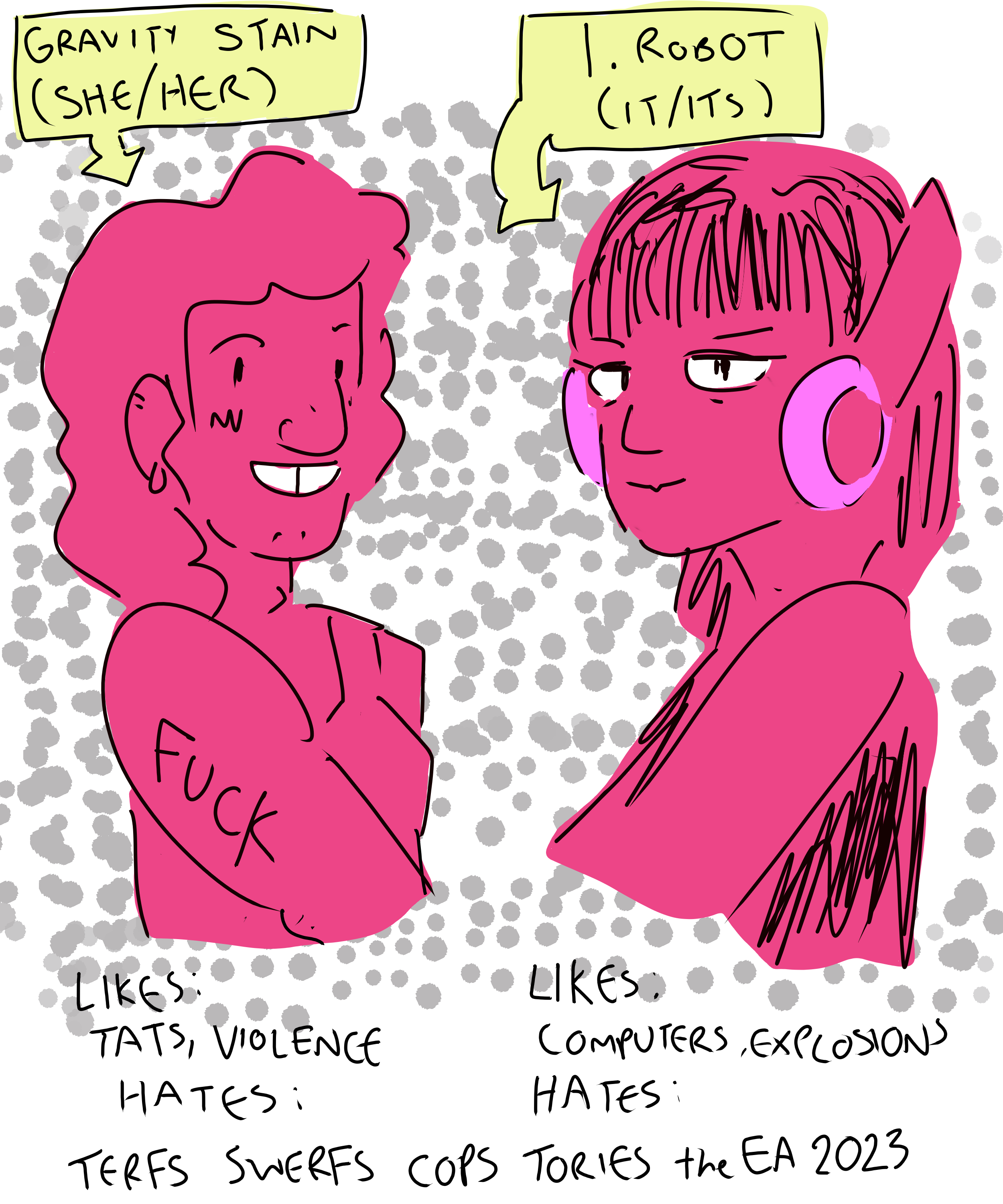 This is a horribly late entry to the TRANS FXCKING RAGE JAM so it's very, very incomplete. But I am very angry and i want to make something ugly and vicious and cathartic so it will get done.
SO WHAT DO YOU GET FOR YOUR MONEY OR TIME
- 1 page of the comic (with the rest coming in chunks as they're done, read it as i make the thing or get it all at the end)
- A cool track FRENZIED DESTRUCTION (a fellow pissed-off trans artist) made for me so I could listen to it on loop while I spent all night being angry and weird and drawing this thing
- A readme file containing my excuses for not actually submitting a whole thing.
It'll be like 16 pages long unless I get carried away in which case it'll be longer. as a reminder i once wrote an 850 page long book when i intended to make a 200 page book in a way smaller size coz i got enthusiastic so you might get a lot for your investment here
UPDATE 22/4 - I am working on this ! apologies for the slow updates, i have Depression. please be kind 2 me, it is coming
update 20/6 fuck sorry sorry i have written the whole thing out and will be storyboarding soon. if you bought it already im sorry if you're gonna buy it wait, but it is coming, have faith i love you

k i love you i hope you will like this thing please read it and remember ACAB and fuck the tories

Download
Click download now to get access to the following files:
Comments
Log in with itch.io to leave a comment.
Hi Sammy
Looking forward to see what happen next and hope you are ok.
Hey! Thanks! i'm ok. I've been planning this for the last month and it's my next big thing (im hoping to get it complete before the end of June, anyway. Hopefully long before then, I'm going into surgery on the 16th lol)
Take your time to complete it :) no need to stress yourself :)
I hope your surgery will go well :)